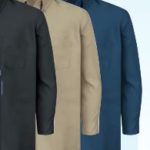 From the storefront to the upper office, Service Uniform provides executive shirts that look good, feel good, and bring out the best in your brand!
Executive Shirts for Your Business
From top-notch craftsmanship to excellent maintenance services, Service Uniform ticks all the boxes for your executive shirts rental service requirements:
Superior in quality and appearance.

Our executive uniforms look as good and as high-quality as they actually are. The appearance of these executive is outstanding, thanks to their sleek, elegant design and excellent craftsmanship.

Durable and designed for regular wear.

Heavy-duty use and even more grueling laundering have nothing on the durability of our executive shirts line. With stain release and color fast qualities, your uniforms will look brand new even with regular use.

Designed with the wearer in mind.

Our executive shirts are also designed to help keep their wearers cool and comfortable, with breathable and flexible fabric that also promotes ease of movement.

Top-notch maintenance only from Service Uniform.

Additionally, Service Uniform uses its expertise and modern laundry facility to bring out the best and cleanest version of your executive shirts.
Uniform Service Unlike Any Other
Service Uniform gives you better control of your uniforms. Aside from excellent maintenance and delivery services, we equip our uniform services with RFID technology. We embed each uniform with microchips to make tracking, recording, inventory management, and cost control easy, precise, and convenient!
With Service Uniform, your company's uniforms are excellent on every front: clean and outstanding in appearance to impress even the most discriminating of tastes, durable and high quality to impress you, and also reinforced with protection against garment loss, excessive costs, and questionable invoices.
Contact Service Uniform for High-Quality Executive Shirts Today
Above all else, we're here for you. Service Uniform satisfies your uniform needs in every possible way, and in every way you need your uniforms to excel. Therefore, this is the only way uniform services should be done. Learn more about our executive shirts service and other uniform services by calling (303) 936-4701, or leave us a message here!